The new BMW 3 Series Sedan offers outstanding driving dynamics and comprehensive, technologically modern support for the driver in the new sporty design.

M Sport suspension with stiffer spring and damper design for direct and agile driving characteristics
The Reversing Assistant and other intelligent driver assistance systems for optimal ride comfort in every situation
Driver-oriented cockpit and innovative BMW Curved Display with touch-based operating concept
BMW 330i Sedan:
Fuel consumption in l/100 km (combined): 6.5
CO2 emissions in g/km (combined): 149
Read more
DIGITAL TECHNOLOGIES IN THE NEW BMW 3 SERIES SEDAN.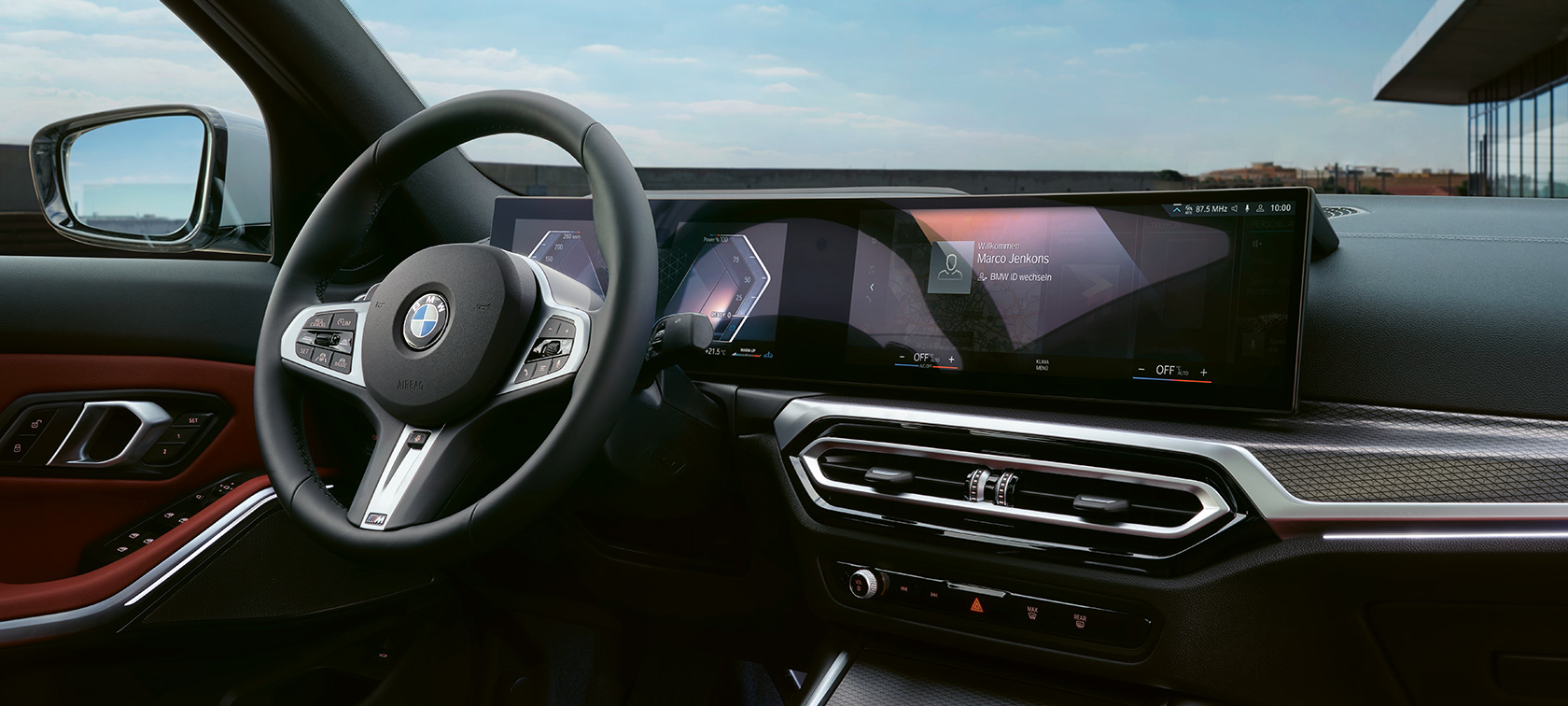 Numerous innovative technologies in the new BMW 3 Series Sedan allow driver and vehicle to communicate with one another comfortably.
The BMW Curved Display provides a full overview of all important information and convenient touch control
Unrestricted connectivity through smartphone integration, allowing you to conveniently plan routes on your smartphone and then transfer them to your vehicle
Experience the intuitive operation using voice commands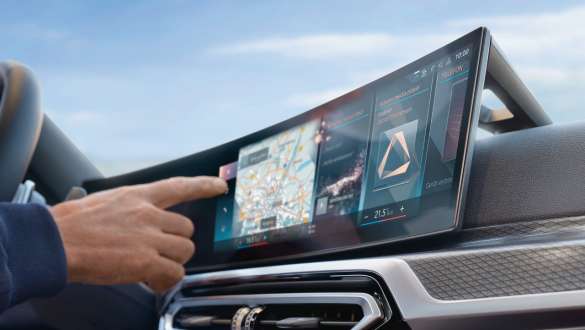 BMW Curved Display.
Nearly all vehicle functions can be controlled using the large BMW Curved Display. Angled towards the driver and equipped with intuitive widgets, it makes operation by touch even more convenient.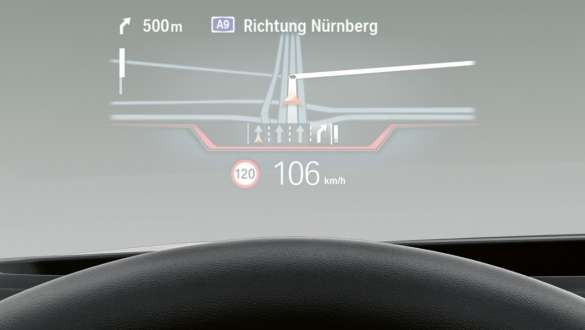 BMW Head-Up Display.
The full-colour BMW Head-Up Display projects all information relevant to the journey directly into the driver's field of vision.
REVERSING ASSISTANT.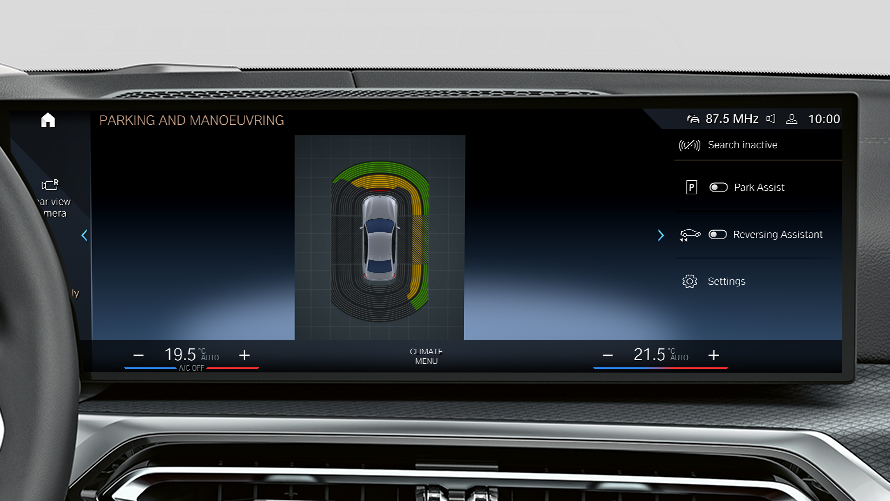 The Reversing Assistant also manoeuvres the vehicle self-assuredly out of challenging situations:

The Reversing Assistant remembers the steering movements of the last 50 metres travelled
At the press of a button, the vehicle retraces automatically and exactly the route previously covered
This means that even challenging situations such as narrow roads, cul-de-sacs or tight parking spaces present no problems at all
THE EXTERIOR DESIGN OF THE NEW BMW 3 SERIES SEDAN.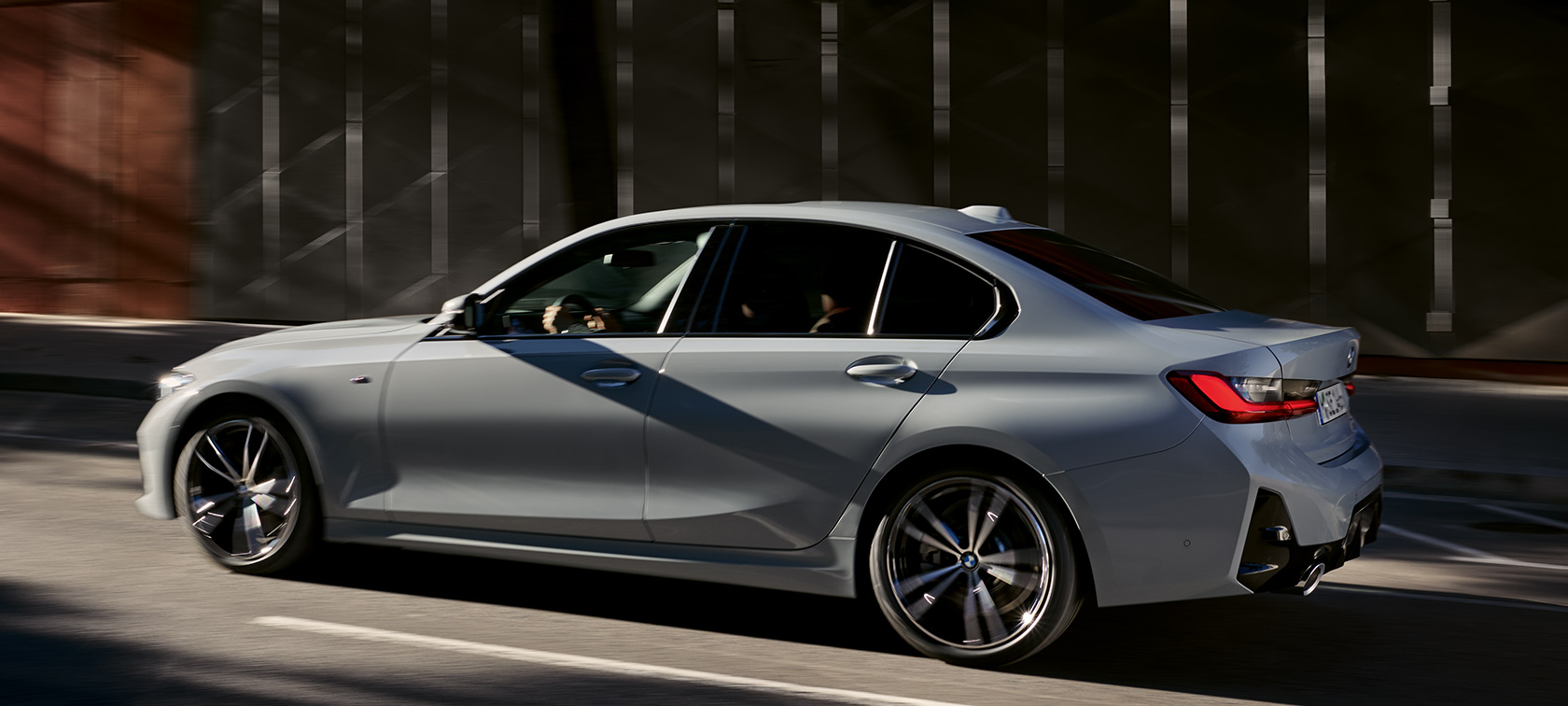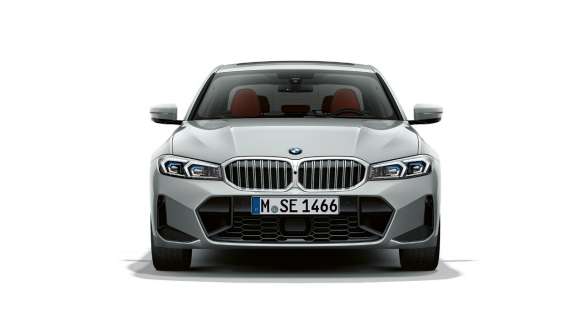 Front design.
Defining the front design are elegantly styled LED headlights which stand out by virtue of their upside-down L arrangement and their focused contour. In combination with the distinctive kidney grille with double slats, the large hexagonal air inlets deliver a self-assured statement.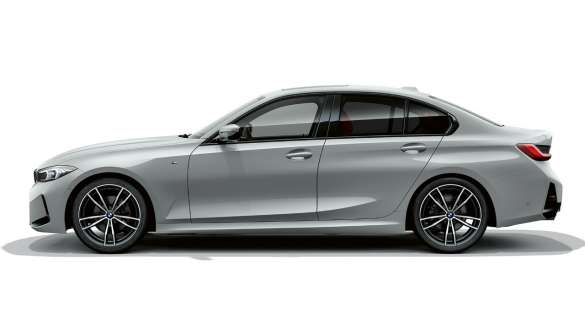 Side design.
Due to the long wheelbase, the short overhangs and compact proportions, the BMW 3 Series Sedan conveys an especially dynamic image in the side view. The flowing contour of the roof line interacts with the optionally available 19" wheels to emphasise the elegance of the vehicle.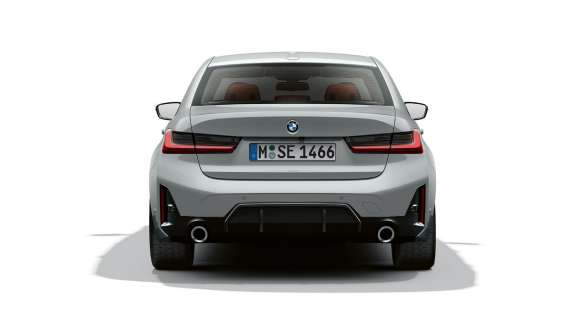 Rear design.
The distinctive bumper creates an especially athletic appearance for the BMW 3 Series Sedan. Vertical reflectors and broad tailpipe trims with a chrome element in the M Sport package reinforce this effect. The large diffuser between the tailpipes rounds off the sporty and dynamic look.
THE INTERIOR DESIGN OF THE NEW BMW 3 SERIES SEDAN.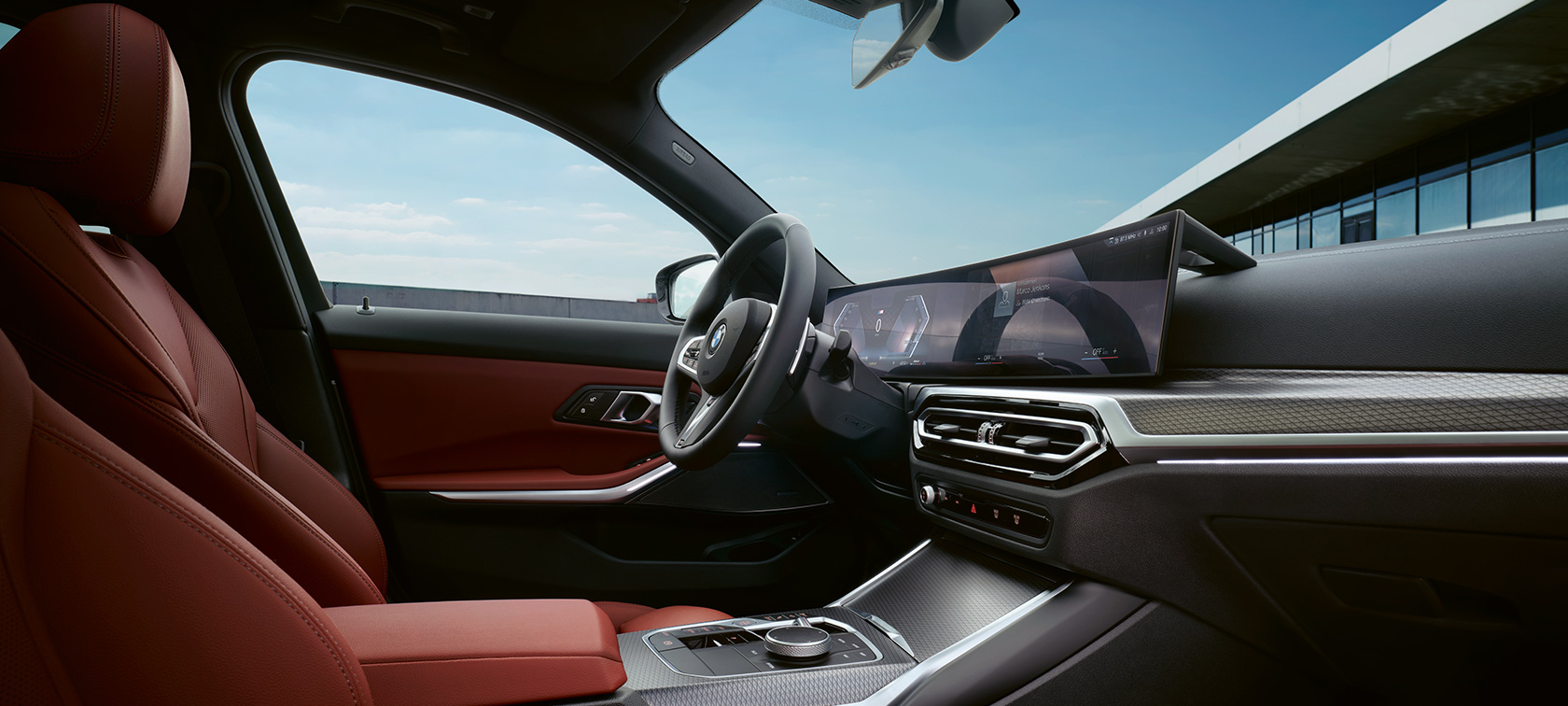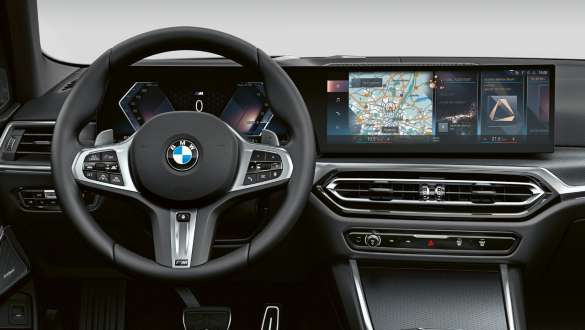 Modern cockpit.
With its reduced controls, the cockpit delivers a clean and modern statement. The slim, frameless BMW Curved Display seems to almost hover freely above the instrument panel and, as a touch-capable display unit, offers modern and convenient operability.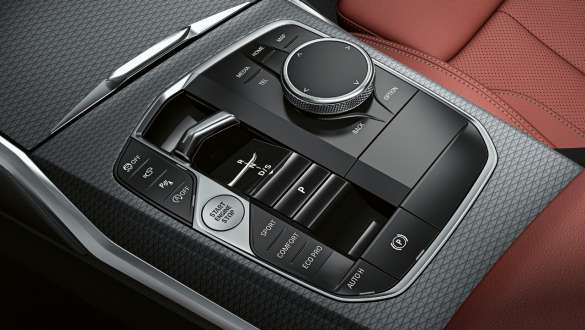 Centre console with new selector lever.
The centre console provides a sporty and enclosed seating sensation. This is the location of the clearly structured control centre with the touch-based operating surface of the iDrive Controller The modern gear selection takes place automatically, with the modern look in the interior creating an especially orderly impression.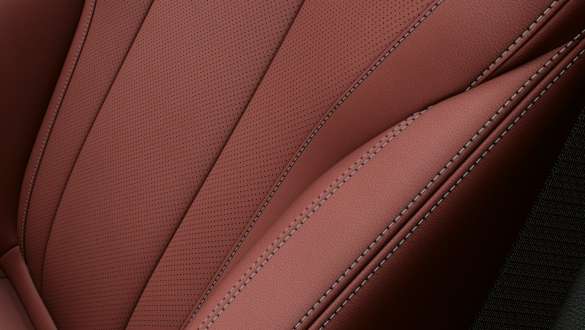 Seats in Sensatec.
The easy-care upholstery in Sensatec impresses with its high-quality, leather-like touch. The perforation combines a sporty and elegant look with an exceptionally pleasant seating sensation, even on lengthy journeys.
DRIVING DYNAMIC HIGHLIGHTS OF THE NEW BMW 3 SERIES SEDAN.
Experience pronounced driving dynamics with a high level of comfort thanks to perfectly coordinated suspension components and powerful engines:
Powerful engines with 90 to 275 kW (122 to 374 hp) for impressively sporty driving experiences
M Sport suspension for especially sporty and direct driving characteristics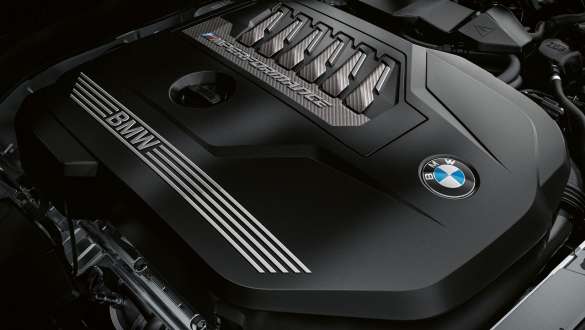 M TwinPower Turbo inline 6-cylinder petrol engine.
The M TwinPower Turbo inline 6-cylinder petrol engine combines power and efficiency for a complete driving experience. The sonorous sound of the engine is a delight. Innovations such as double VANOS, Valvetronic, high precision injection technology and twin-pipe turbocharger draw as much energy as possible using as little fuel as possible.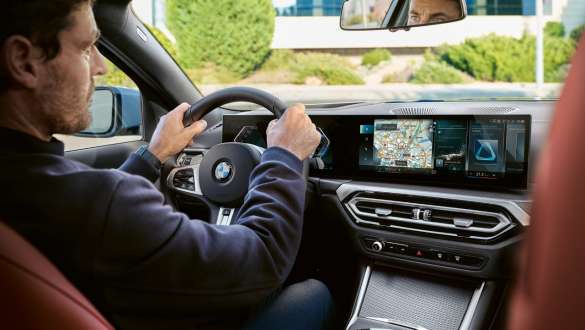 Electrically assisted steering.
The electric servo support for the steering increases both steering comfort and driving safety. It makes manoeuvring easier and guarantees stability at high speeds.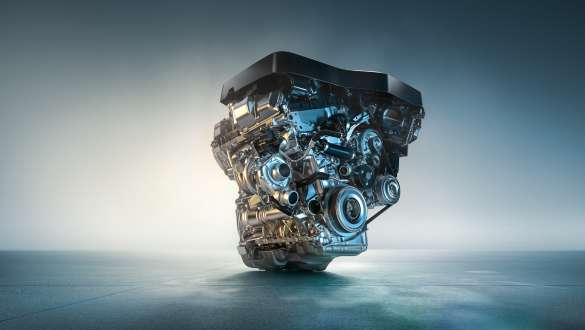 TwinPower Turbo 4-cylinder petrol engine.
The TwinPower Turbo inline 4-cylinder petrol engine offers a lot of driving pleasure. Even in the low engine speed range, you will experience very direct power delivery and spontaneous response. The drive combines efficient consumption with low pollutant emissions and operates quietly and runs smoothly in any situation.
ORIGINAL BMW ACCESSORIES FOR THE NEW BMW 3 SERIES SEDAN.
With Original BMW Accessories, you adapt your BMW to your personal wishes: the products are perfectly matched to the new BMW 3 Series Sedan in terms of quality, design and performance.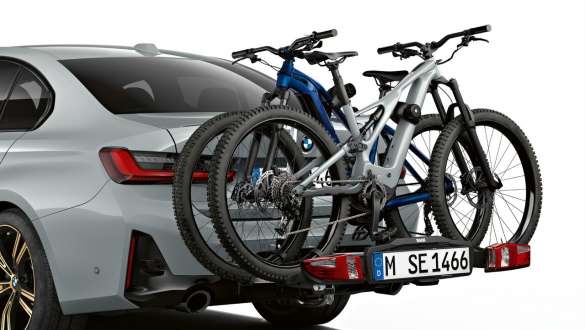 BMW rear bike rack Pro 2.0.
The BMW rear bicycle rack Pro 2.0 is lightweight yet sturdy and can carry up to 60 kg. Outstandingly easy to handle, it can transport two bicycles or e-bikes (can be extended to accommodate three bicycles). Its tilt function allows easy access to the luggage compartment at any time.
To the Product
BMW roof box 520 black/titanium silver.
The modern roof box in black with titanium silver side panels has a capacity of 520 litres and is compatible with all BMW roof rack systems. Due to the fact that it can be opened from both sides and has triple central locking on each side it is convenient to load and lock for theft protection.
To the product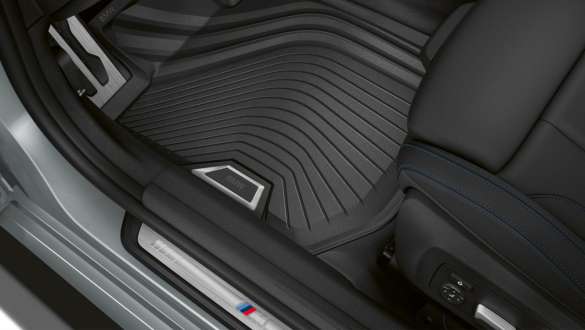 BMW all-weather floor mats front.
The perfectly fitted, durable BMW all-weather floor mats with a raised border and elegant design protect the front footwell against moisture and dirt. They are black and feature a high-quality stainless steel inlay.
To the product
PRICES AND SERVICES FOR THE NEW BMW 3 SERIES SEDAN.
BMW SERVICES.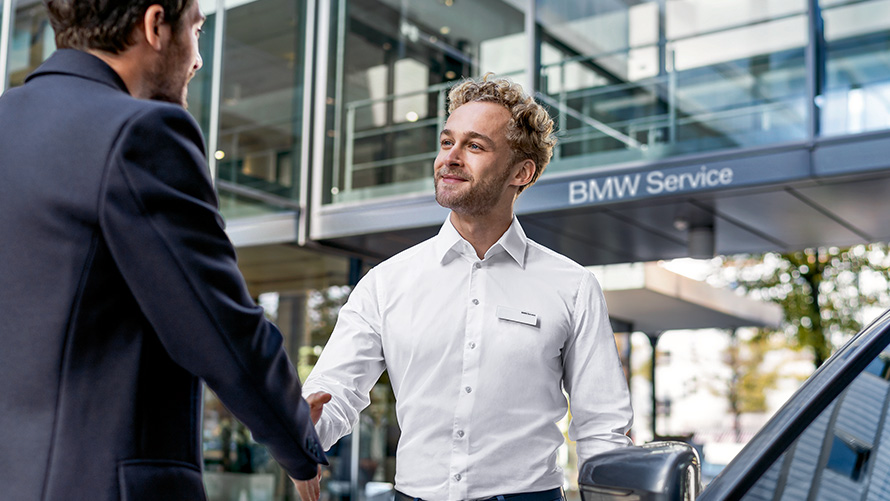 BMW Services ensure you remain completely carefree when you drive:

With BMW Service Inclusive you enjoy 100% transparency thanks to services such as vehicle check, microfilter or brake fluid check at a fixed price
The assistance provided by the BMW Breakdown and Accident Services is available to you free of charge, around the clock and 365 days per year
​
Fuel consumption and CO2 emissions.
BMW 330i Sedan:
Fuel consumption in l/100 km (combined): 6.5
CO2 emissions in g/km (combined): 149

Official figures for fuel consumption, CO2 emissions, electricity consumption and electric range were determined in accordance with the prescribed measurement procedure and comply with Regulation (EU) 715/2007 as amended. WLTP figures take into account any optional equipment in the case of ranges. For vehicles newly type-approved since 01.01.2021, the official specifications exist only according to WLTP. Further information on the NEDC and WLTP measurement methods can be found at www.bmw.de/wltp

** At temperatures below 0 degrees Celsius, purely electric driving mode of this plug-in hybrid will not be available until the battery has warmed up to an operational condition after the vehicle has travelled a few kilometers.